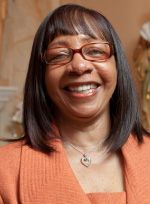 Dear Family and Friends:
St. Eugene School has been a beacon of hope and excellence in the Inglewood and South Los Angeles community for over 65 years. You will feel at home at St. Eugene. We pride ourselves on our faith-based, family atmosphere. This environment allows for a more productive, safe and energetic learning experience.
In an age when education is suffering greatly in our neighborhoods, St. Eugene has been steady in its pursuit of an education that prepares a child for tomorrow. Our Junior Kindergarten starts at age 4, giving our boys and girls a solid foundation for success. This includes high graduation rates of 98% (nearly perfect), a love of reading, math, athletics and God. We are proud of our Academic Decathlon Team for winning first place overall in the Deanery this past year, with individual first place trophies in English, science and religion. Our students go on to attend the best private high schools in the city. We believe that every child deserves a chance to fulfill his or her potential. We give them that chance!
Make an appointment to come by and visit our school at (323) 754-9536, and feel free to email me with any questions.
May God's light guide you always,
Leona Sorrell, M.A.
Principal